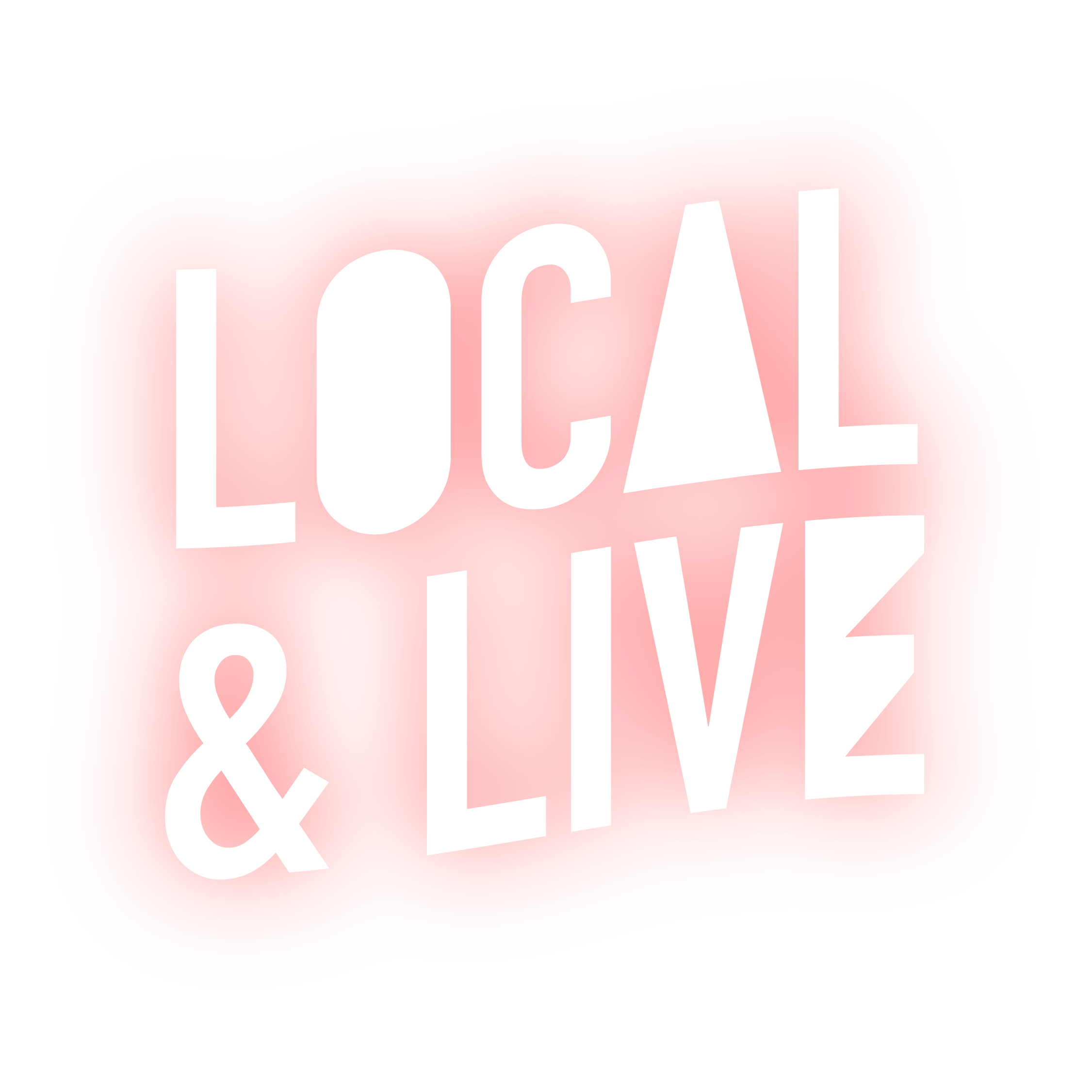 After high energy alt-pop queen Tilly Louise smashed it last week, we thought we'd take you to the other end of the spectrum with chilled out, Americana country folk-rock band Motel Sundown this time round!
Sometimes things just come together in the most organic and natural way, in a pub full of music and laughter. For trio Motel Sundown, made up of Naomi, Karen and Rob, it was on the Liverpool gigging circuit where all three members met back in 2016. "The dream for me was to find people you want to play and write with, playing to people who love listening to music", says Karen. Rob adds: "we're all close friends and fans of each other's music, so if you can do that as a lifestyle that in itself is a dream". With 3 singles and a debut album under their belts, we thought we'd grab them for a catch up on all things Motel Sundown.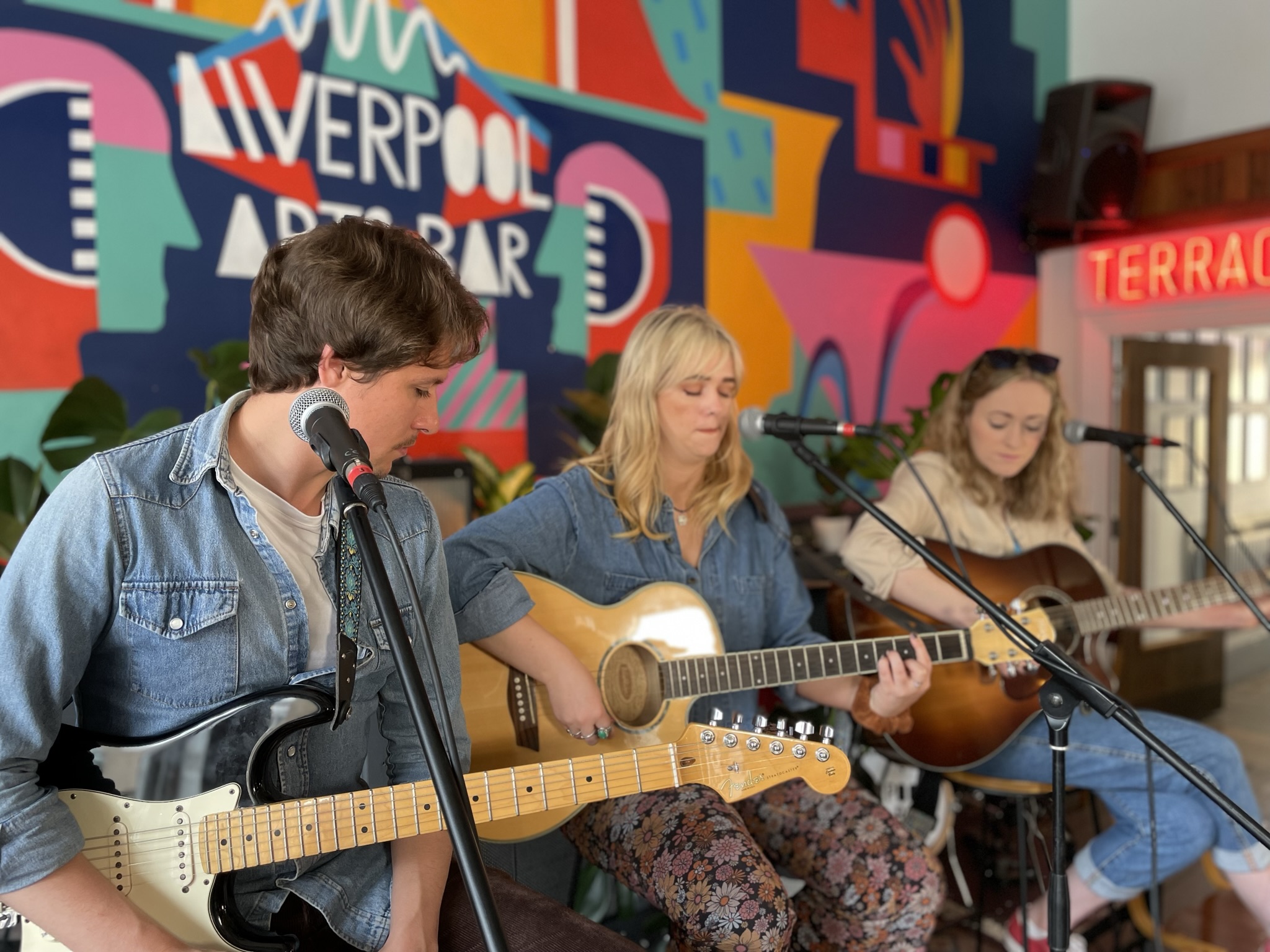 The first time we met was in Bundobust (shout out Bundobust) back at Sound City this Spring, my first question is how was that pop up gig?
N: That was a really fun last minute gig actually! We'd just played a set at The Jacaranda, and just headed over to Bundobust after that and set up and played! Really chill and really nice, and busy as well obviously because it was Sound City. Had some lovely food as well!
That Sound City weekend was around the time of your 'Perfect Eyes' single – what have you been doing since then?
N: So that was the second single from our debut album, and since then we've released a third single from that record, 'Brake Lights', with a music video as well. And then of course the album and the album launch as well. Been quite busy! The album launch went amazingly well – we did it upstairs in Jimmy's and were very happy to sell it out. It was a really special night, it's lovely up there looking over the Bombed Out Church. Our families came over from Ireland, London
and even Edinburgh, and it was lovely to see everyone there.
What does each of you individually put towards the overall style of your songs? How did the three of you blend together ideas to come up with the genre/s you now sit so comfortably within?
N: We've been thinking about this recently – what sort of genre would we describe ourselves as. It's a mesh of country, folk, Americana and folk-rock as well. We don't really know how to explain it!
R: We are all different writers who write different types of songs.
N: We have used Fleetwood Mac as a reference before as we go for the same sort of idea all writing the songs: we have some similar influences and then also bring some different ones into the group. It's really fun as writers to start a song on your own and then finish it together, it could turn out completely different than what you expected, and a lot of the time, better!
The individual verses you sing live and on the record – are they the lyrics that you write personally?
K: Yeah, mostly we do it that way! It comes across more personal and heartfelt, and interesting story-wise to have different perspectives. There's a song, Brake Lights, which was predominantly Rob's song and we finished it together, but we decided I should sing it! That was an interesting one, sometimes we do change it up and think who would suit it better.
N: Yeah obviously because of the different range in vocals, we will sometimes switch it up to sound a bit different, it's always fun doing that. You don't realise how different our voices are until you try to sing someone else's part!
R: I find that if you're writing a song that you have no intention of singing, it's actually easier! You can be more personal and not be embarrassed about having to sing the lyrics you wrote, it's quite liberating knowing that you can write more personal lyrics and then give them to someone else to sing.
How did it feel finally getting your debut album out, 'If You Were Listening'?
N: Yeah it was pretty exciting to finally get it out, it was a very long-winded project! It was recorded in February 2021, and we didn't realise there would be such a gap between recording and releasing, but obviously it was all off the back of COVID, so that caused a bit of delay. We just wanted to wait until the time was right, and let the singles breathe for a bit as well. It felt really weird to then finally release it.
K: Yeah, we recorded it in lockdown when the world was in a weird state, but we were lucky enough to still have access to that studio. We did it in a bubble of people working on the album, it was really nice! Having it finally come out was great as well, and gradually build up gigs as the world started to open up again.
Did it feel weird finally getting to perform these new songs live, even though they were written two years ago?
N: Definitely really strange – we say this all the time at gigs! We've been playing a couple of 'new-new' songs, that's what we've been calling them. Obviously the album is fresh to all the people we are playing it to, but we've got even newer songs down the line now as the album was recorded a year and a half ago. We've got quite a few songs ready for the next album already! We really love getting to play this album live though, as we couldn't do that before.
Are there any songs in particular that you were excited to bring live to the stage?
N: It was probably 'Days Are Gone', the one we just did in the live session. We all really enjoy playing that one, it's a bit different for us. It's that element of folk-rock, that element of going a bit heavier. We've got that riff in it, that 'Paul McCartney chug' we call it!
R: It's nice for us when we play it live, because there's room for improvisation unlike on a recorded track. Structurally, some of them change as well, I like doing stuff like that! It's nice to say that the recorded version is just 'a version' of the song, we have loads of other variations of the same track as well when doing it live.
And with the album versions of songs, which tracks stick out for you as favourites?
K: I love 'Shopping', as well as 'Days Are Gone'! Shopping is one that was mainly Rob's, we've been playing it for a long time so it feels like an old song, but when taking it to the producer, Andy, he had the idea of doing a 'fake-ending', and then a cool drum solo and guitar solo.
You mentioned the 'Paul McCartney chugs' before, are there any other artists that you draw inspiration from? Or any artists that you subconsciously are influenced by that perhaps you wouldn't notice straight away?
N: There's the main ones I guess, and then ones that other people point out that we don't necessarily think of straight away! In terms of our main influences are Neil Young and Emily Harris on that country root, obviously The Beatles as well.
K: An artist that people always say that Naomi sounds like is Karen Carpenter, which I agree with! Like you're not overly influenced by her, but it makes sense.
N: Yeah I think that's probably a vocal thing – we never sit down and think 'yeah let's write a Carpenter's tune', but it's nice when people tell us who we remind them of! I think, recently, a band that we are trying to experiment with is The Byrds, trying to play with the electric 12 string and stuff.
R: The hidden influences I think people wouldn't notice straight away is stuff more like The Verse, not obtusely, but in things like delays and chord changes. Those influences are embedded in you for life! I think of genres like clothes, like it's all the same, but tiny changes completely change the idea of it. You can put a pedal on it, and all of a sudden it's a country song. If it changed to a synthesiser, it definitely wouldn't be a country song. I'm an English bloke from the 90s, so naturally draw on would be different from Naomi and Karen for example.
N: Yeah that's always interesting, obviously Karen and I are from Ireland – not meaning we write an Irish Jig or anything like that, but it definitely influences your music depending on where you're from.
Looking into the future, is there anything coming up for Motel Sundown which you can tell us about?
N: We've got the tour coming up which we are really excited about! We've got some dates booked, we've obviously done a lot of Liverpool gigs recently but going a bit further afield. We've got Southport this week, which will kick off a 6/7 date tour for us. Brighton as well, and some venues in Wales, we've actually got one booked in a record shop in Leeds which'll be cool! And a guitar shop as well. British Country Music Festival as well in Blackpool at the start of September, Tom Odell headlining that one as well, which we are looking forward to that -finishing off summer with a festival. Just us three as well playing these gigs, so will be really nice and intimate.
You can stream Motel Sundown's debut album 'If You Were Listening' now on all platforms. Catch our full session with the band via the link above and if you want to know more, tune in to our podcast on all the major podcast streaming platforms. Make sure to go and follow them on @motelsundownband on socials to keep up to date with all things Motel Sundown!