Welcome to Episode One of the Local and Live X Liverpool Arts Bar collaboration! Expect all you could ever want in relation to the local music scene; podcasts, interviews, live sessions, IGTV fun and games… every single week! We will focus on an artist each week, finding out more about themselves, their tracks, and of course throwing a few curveballs in between.
Kicking off our Local and Live X Liverpool Arts Bar collaboration, we grabbed the incredible Martha Goddard and rinsed her of all her talents, to kick off this project in good hands.
Martha is no stranger to the local music scene here in Liverpool, having done numerous gigs, released many tracks, played at festivals, and everything else in between, under both herself as a solo artist, and with band 'Hushtones'. Martha's deep connection to singing and song-writing can be traced back to the beginning of a journey that is profoundly personal. It was as a socially anxious child that Martha first discovered the healing power of creating, and began using music as an escape and a remedy. After releasing her debut single 'Mirror Vision' in March 2022, she is back with her latest tune 'Fighter' this month, so we thought we'd grab her whilst the iron was hot and ask her all about it!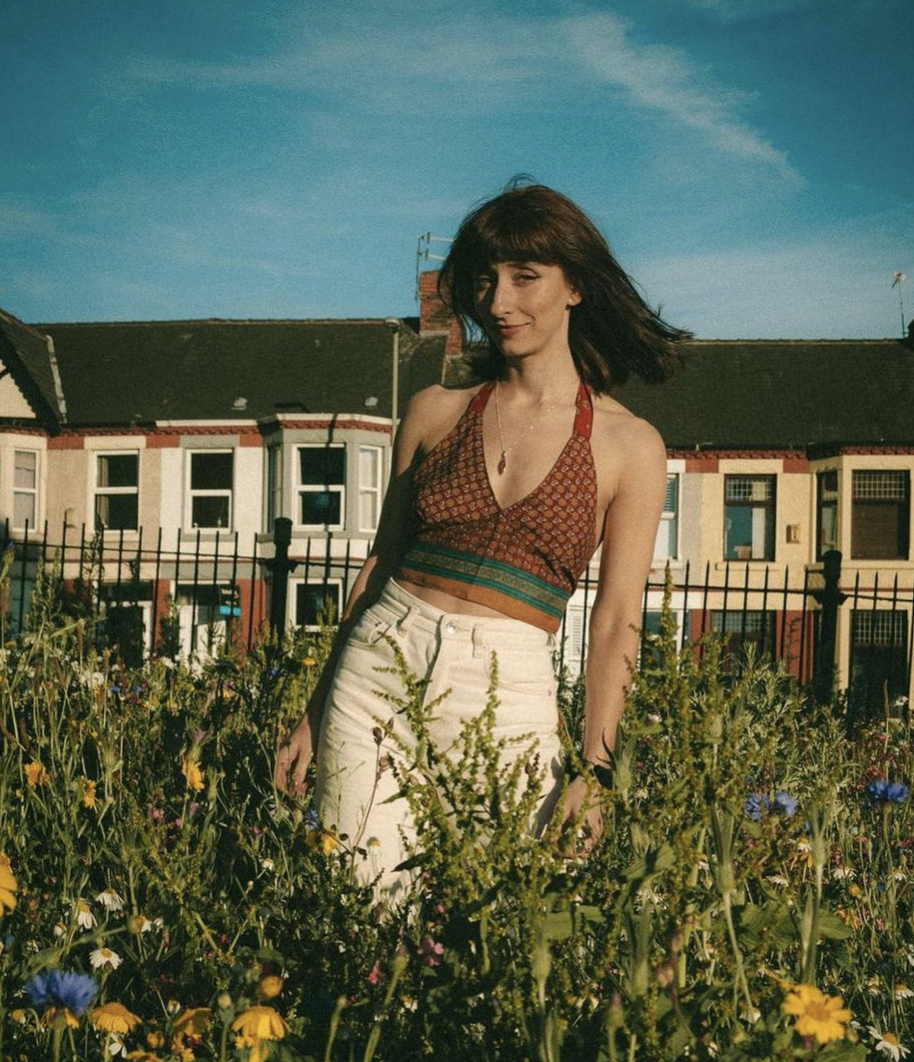 WHAT FIRST GOT YOU IN TO MUSIC AND SONGWRITING?
"You know what… it was actually Avril Lavigne! I wouldn't usually say she was my main first inspiration, but looking back, she probably is. I used to love her first two albums; I would listen to them back to back over and over again – she was the coolest person in the whole world. When I was in school, I was so painfully shy and wouldn't speak at all, but when I started having singing lessons it really brought me out of my shell. You have to have confidence when you sing. So from then on, I wanted to songwrite… Avril Lavigne inspired of course. In fact, my first song was written about how painfully shy I was growing up!"
I GUESS THE STEPPING STONE FOR CONFIDENCE IS SINGING THEN, FOR ANYONE OUT THERE THAT'S LISTENING THAT NEEDS A LITTLE CONFIDENCE BOOST… WOULD YOU AGREE?
"Yeah of course! If you're ever feeling a bit socially awkward, just sing I guess. I also think that singing and songwriting is a great form of therapy, and a much cheaper form of therapy. You can really iron out issues in your life that you don't even know about until you start writing."
I KNOW YOU'RE A HUGE KATE BUSH FAN, HOW DO YOU FEEL ABOUT THE REBIRTH OF 'RUNNNG UP THAT HILL' RECENTLY?
"It's so bizarre but I love it! I'm obsessed with Stranger Things, season 4… WOW. I just love all the characters, I think they're really interesting and well-built, that's the best part for me. I'm not usually about all the gorgons and creatures and that, but the whole 80s vibe and characters are so relatable."
WE HAVE CHATTED ABOUT AVRIL LAVIGNE AND KATE BUSH ALREADY, ARE THERE ANY OTHER ARTISTS THAT HAVE INSPIRED YOU ALONG THE WAY?
"Kate Bush is definitely the big one – my mum used to have all of her music videos on a video tape, and I used to watch them all and think she was so incredible. I also used to listen to Björk as well, we used to have her CD in the car, and of course The Beatles as well. My main influences I guess were Kate Bush and The Beatles – not a bad combo at all! Everyone went through their Paramore phase as well, wanting to be Haley Williams."
WOULD YOU SAY IT WAS DIFFERENT WRITING AND PERFORMING YOUR OWN SOLO STUFF COMPARED WITH 'HUSHTONES'? IS IT DIFFICULT TO SWAP BETWEEN THE TWO?
"I'd say it's so easy to differentiate the two. For my own stuff, I'll sit at home and write a song with my keyboard, and it'll come from a very personal place. It's completely my idea, and I just go with the flow. It's usually very synth-lead, not much guitar. For Hushtones, Mick and I 100% co-write, it's 50-50 split. We'll go to our practice room (big up Liverpool Arts Bar for the space!) and just start messing around with chords and find something to latch onto, and just go from there really. It's 100% OUR song, not MY song that way, 100% Hushtones. It's a completely different process to the way I write on my own, and I love being able to do both."
WE'VE TALKED A LOT ABOUT THE SONGWRITING PROCESS, BUT WHAT ABOUT THE LIVE ASPECT? ARE THERE ANY RITUALS OR HABITS YOU GET YOURSELF INTO FOR EACH GIG THAT YOU DO?
"Oooooh yes – Fisherman's Friends. It's the most menthol, eucalyptus, blow-your-head-off mint out there! I'll have one or two before a gig, I think I've become immune to them now actually, and it just completely opens up everything before you sing. If anyone from Fisherman's Friends is here… please sponsor me."
HOW ABOUT AFTER A GIG, ARE YOU A 'CRASH AND GO TO BED' TYPE OF PERSON, OR MORE OF A 'GO ON A NIGHT OUT' VIBE?
"You know what, I could go either way really! After a gig, the adrenaline rush wears off and you definitely need a moment to yourself to breathe. I'll get off stage and need 5 minutes to decompress, I wish I did it more often. I obviously love people coming up and chatting to me after a gig, and really appreciate it, but sometimes do get a bit overwhelmed with it all. Maybe I should have a little moment after I'm off stage to have a quick breather. I would normally rather go out afterwards though, you've got to reward yourself after it all as well, a well-deserved celebration."
SO, ONTO YOUR NEW SINGLE – WHAT IS THE JOURNEY BEHIND THE SONG?
"So when I wrote this song, it was towards the end of last year, I just started writing it in my bedroom on Logic. I'd found a really nice pad sound that I liked and went from there. The song itself is about wanting to project this image of yourself being strong and independent, but at the same time we're all human, and all have vulnerable moments. We need to rely on others at some points in our lives. We are always taught to rely on that 'knight in shining armour' figure to come and save the day, but that's never actually the case. What I usually find is the real saviors are our friends: they're the ones giving the words of wisdom. There's a line in the song that says 'I ask the devil Herself, she said just roll with it, baby'. What I thought with that was that women are always represented as sinful witches, but I take that in a positive way! Me and my friends are like witches, fixing things together. Why can't the devil be a woman, and be a female ally? If I ever have an issue, I can go and speak with my friends. That's where I really get my strength… and become a Fighter (if you will!). Summing up, I'd say the song in general is just that battle between finding strength from a good place, and then finding strength from someone who's maybe not that good for you."
THIS IS YOUR SECOND SINGLE TO DATE, DID IT FEEL ANY DIFFERENT BUILDING UP TO THIS RELEASE THAN YOUR DEBUT BACK IN MARCH?
"This time I didn't actually do as much to build up the hype surrounding this single. I wanted to do things on my own, and try doing a music video by myself (with help from my friend Jen). Neither of us had any experience in making a music video, but it was a great experience! With the first single, I wanted a professional music video to show everyone who I was as an artist, but now that I've done that, I want to see how much of it I can do on my own."
IS THERE ANYTHING ELSE WE CAN LOOK FORWARD TO IN THE FUTURE WITH MARTHA GODDARD?
"Of course, this is only the beginning! The next thing is an EP hopefully, I have such a backlog of songs that I want to get out there before I start writing new songs and starting new projects. I've actually been in the studio already to start recording the next song, which is going IN on the synths (Stranger Things watch this space!). More on that track in the future."
You can listen to Martha's latest single 'Fighter' now on all streaming platforms, and catch the full interview (featuring some live session tracks) on the Local and Live X Liverpool Arts Bar Podcast via the link; https://spoti.fi/3IHtIoB AND you can catch her live session on YouTube via this link; https://bit.ly/3cpew3r