SPOTLIGHT ON |
AMBER PROTHERO
We caught up with Liverpool based singer/songwriter Amber Prothero as she joined us in the Arts Bar to record a brand new Library Session.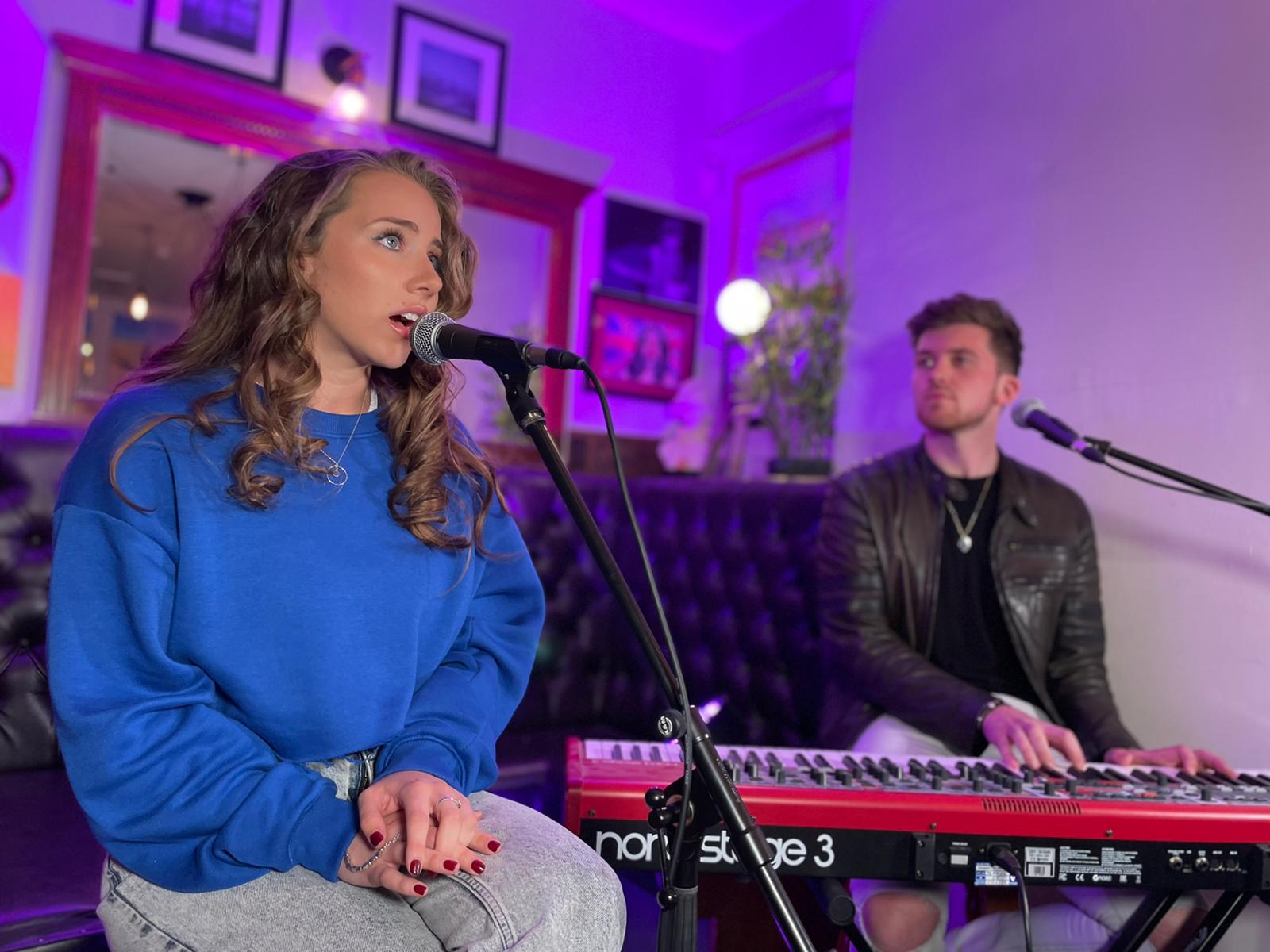 Amber Prothero is a dynamic musical force. Her dreamy, soulful vocals merge perfectly with her raw confessional lyricism in a way that completely captures the complexity of our emotions. Weaving through a multitude of genres, Amber smoothly transitions from traditional acoustic to pop to the more experimental, most recently incorporating dubstep and D&B into her musical repertoire. We first came across Amber during our Arts Bar Song Contest in November 2019. She entered her original song 'Gabriella', which gained over 7000 views.

After hearing her wonderful voice during the Song Contest, we knew that once we could have live performance back in the venue, Amber would be one of the first people we contacted. Accompanied by the wonderful James Bradshaw on keys, we were lucky enough to hear some of her original tracks live. We had some questions about how she has found lockdown, who she takes inspiration from and who else she would like to shine a light on. Take a look at what she had to say;
Who are your musical influences?
When I was growing up I listened to a lot of Corinne Bailey-Rae, Lady Gaga and Ella Fitzgerald, and I think that these artists and their music really inspired my Pop-Jazz EP, Gabriella, which came out earlier this year. But for my most recent project, I've taken a lot of inspiration from artists such as Bruno Mars, Tom Misch and Jessie Ware. I definitely feel like I've found a home in Soul/Funk music over the last few months… but I think that's the beauty of being an artist and a musician, both your taste in music and your style evolve and grow and it's really cool to experience that journey from project to project.
How have you managed to keep creating during the lockdown periods?
I'm sure many artists have said this, but lockdown has actually been an amazing opportunity to get creative and go out of my comfort zone. Before lockdown I had no time to sit down and write, (or at least I didn't make the time!). So having months and months to sit in my studio in my bedroom playing around with ideas and delving into different genres has been such a positive thing. Although, I don't think I could have managed to stay creative for months on end without Zoom or Skype as I did a lot of co-writing with friends online throughout 2020… including collaborating for a very exciting upcoming project for 2021. The beauty of technology haha!
Are there any other Liverpool based artists that you would like to shine a light on?
I recently discovered P3lz who is a young rapper from Liverpool. I listened to one of her tracks during Dave Monks' Saturday night show on BBC Introducing Merseyside and was absolutely blown away. There is literally so much talent in the North-West and I don't think people realise! Over lockdown I also discovered Pixey, MC Nelson and Nia Wyn who are all out of this world talented too.
What does the future hold for you? And where can we expect to see you performing?
I'm really excited about this year in particular. I'll be releasing my debut album later this year, with the lead single Confident coming out mid-late June. Myself and a local director, Dan Sloan, will be shooting the music video in early May in Liverpool, which I'm so looking forward to. This collective work feels so genuine and very 'me'. For a long time I underestimated the power of feel-good music and a lot of these songs are exactly that; fun, upbeat and soulful and they simply make you want to have a bit of a boogie. In terms of performing, I have my first gig post lockdown at The Underbelly, Hoxton in London on 10th June which I can't wait for. There are actually still tickets available for anyone who wants to come http://bit.ly/392aAAO
We want to say a massive thank you to Amber and James for taking the time to come and play for us. Make sure to check out her full set in the Library at the Arts Bar by clicking the link above. If you're a fan of the content, click the subscribe button and keep in the loop for new sessions with local, exciting artists.
Love ya,
LAB