One step closer! We take our hats off to our independent friends.
What a week that was? The sun was shining, birds were chirping and once again, the good times were flowing. As the nation took its next step back towards normality, we saw so many brave independent businesses welcome returning customers in a new way. Now, the constant change in rules can be confusing, so for those of you that are unaware of the current set up, it goes as follows; 
'Pubs and restaurants are allowed to open and serve customers with outdoor service only. Everyone who visits will have to check in on the NHS's Test & Trace app and groups are limited to six people. Drinkers have been urged to take cash to the pub with them, as poor broadband and mobile signal means card machines may not work in pub gardens. There are no rules in place requiring pubs to serve a meal alongside alcohol, and there will be no curfew.'   
So Monday 12th April saw the return of pubs and restaurants that could function in an outdoor setting. We saw so many clever innovative ideas and businesses we love adapting to the situation that had been thrown at them. Some of whom, absolutely thrived in the conditions. We made a statement a couple of weeks ago, letting our regulars know that despite our best efforts, we hadn't been able to secure sufficient outdoor space to open again on the 12th April and unfortunately we would have to wait until the 17th May. As work continues in our site and we press on with our online projects, we decided that the best thing we could do this week was to visit our friends, in independent businesses and show our support in any way we could.
The week started with a bang, as thousands of people flocked to the city on Monday, desperate for a taste of normality. We were so happy to see the support shown as so many of our favourite places. Saturday very quickly came around and as we wandered the bustling streets of the city on Saturday afternoon, the sheer volume of people queuing for a drink took us back to Cup Final Saturdays. The energy was electric as you could see the excitement on peoples faces knowing they were about to have a drink in a social environment with their friends again. Everywhere we visited, we were made to feel so welcome and wanted to share with you some of our favourite places that we think you should see too;
MADRE
One of the newest additions to the historic Albert Dock site, MADRE quickly became one of our favourite places to eat and drink in the city. You can get your hands on a wide mix of Mexican street food, all absolutely bursting with flavour, leaving you tasting it even hours later. Cocktails, beers and so much more, this really is the perfect place to visit. These guys have made total use of their unique outdoor space, bringing an old dock courtyard to life with live music bouncing from wall to wall. They are at 6, Atlantic Pavilion Albert Dock and you should CHECK THEM OUT! 
https://www.instagram.com/thisismadre/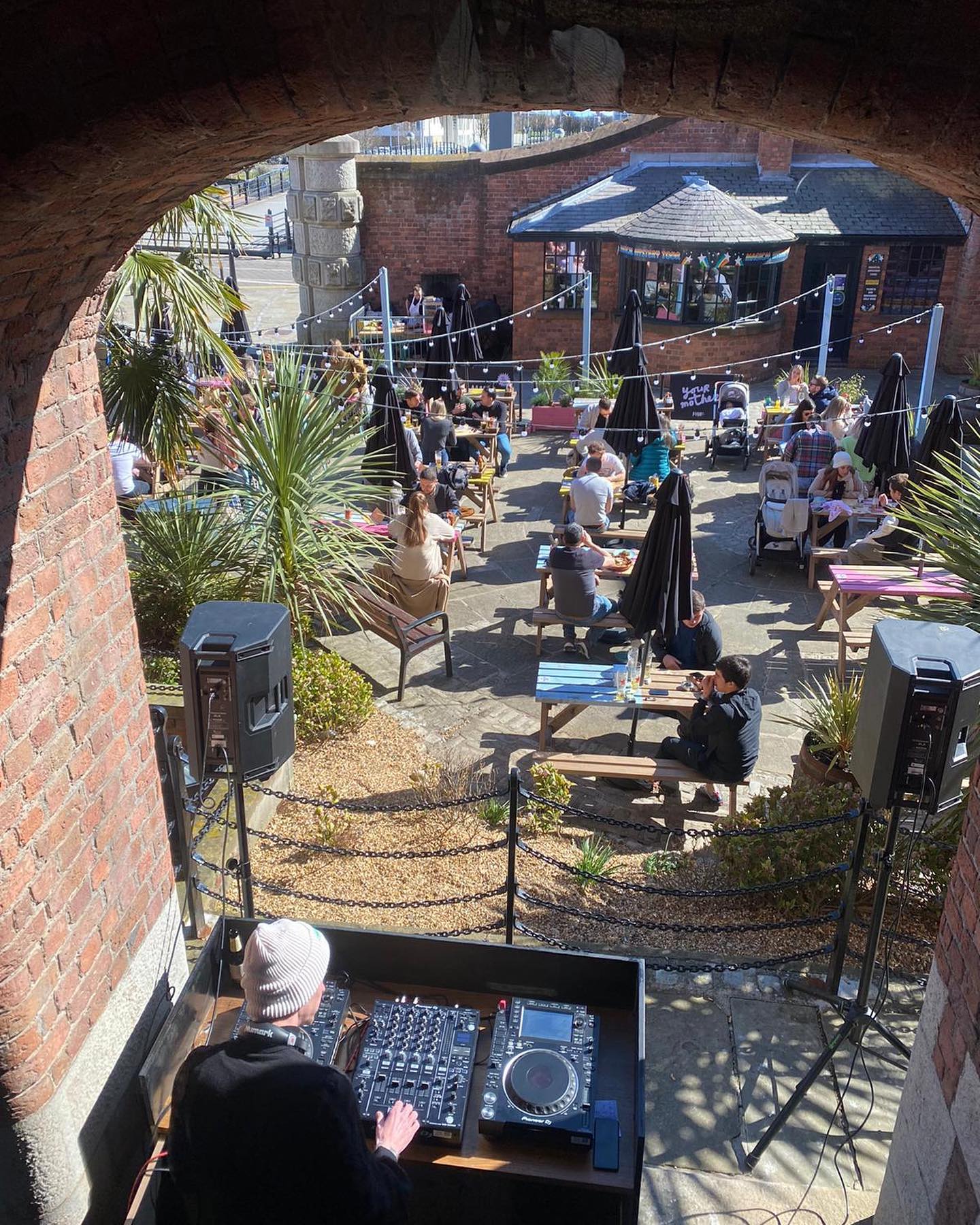 PHASE ONE
Those who know us personally at the Arts Bar, know our links with Jacaranda & Heebies. We love these guys, always have. We started working with their unbelievably creative, trusting and positive team 5 years ago and we can not wait to see this great venue open its doors and house live, grassroots music once again. BESIDES THAT… Have you seen the Phase One Courtyard? It's fantastic! You can enjoy a brilliant range of beers, cocktails and so much more in an amazing, unique space with your friends. Phase One really does provide the perfect, relaxed environment to drink or eat whilst listening to music.
https://www.instagram.com/phaseonelpool/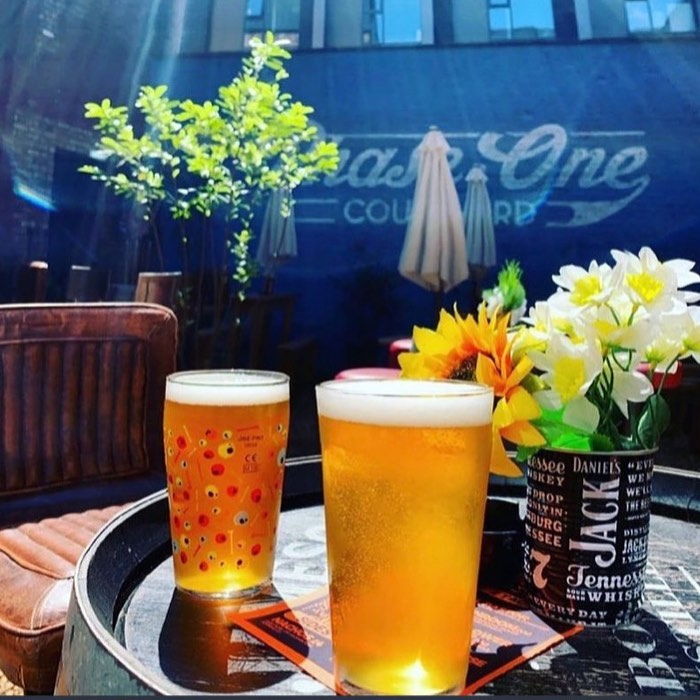 BOLD STREET COFFEE
Where to start your day? We know just the place. Well, if we're honest, you could end up here all day you will love it that much. 89 Bold Street is home to one of our favourite places for a coffee and a scran, Bold Street Coffee. Take your sunglasses and pretend you're on 'Las Ramblas' because they are certainly the vibes you are going to get.
https://www.instagram.com/boldstreetcoffee/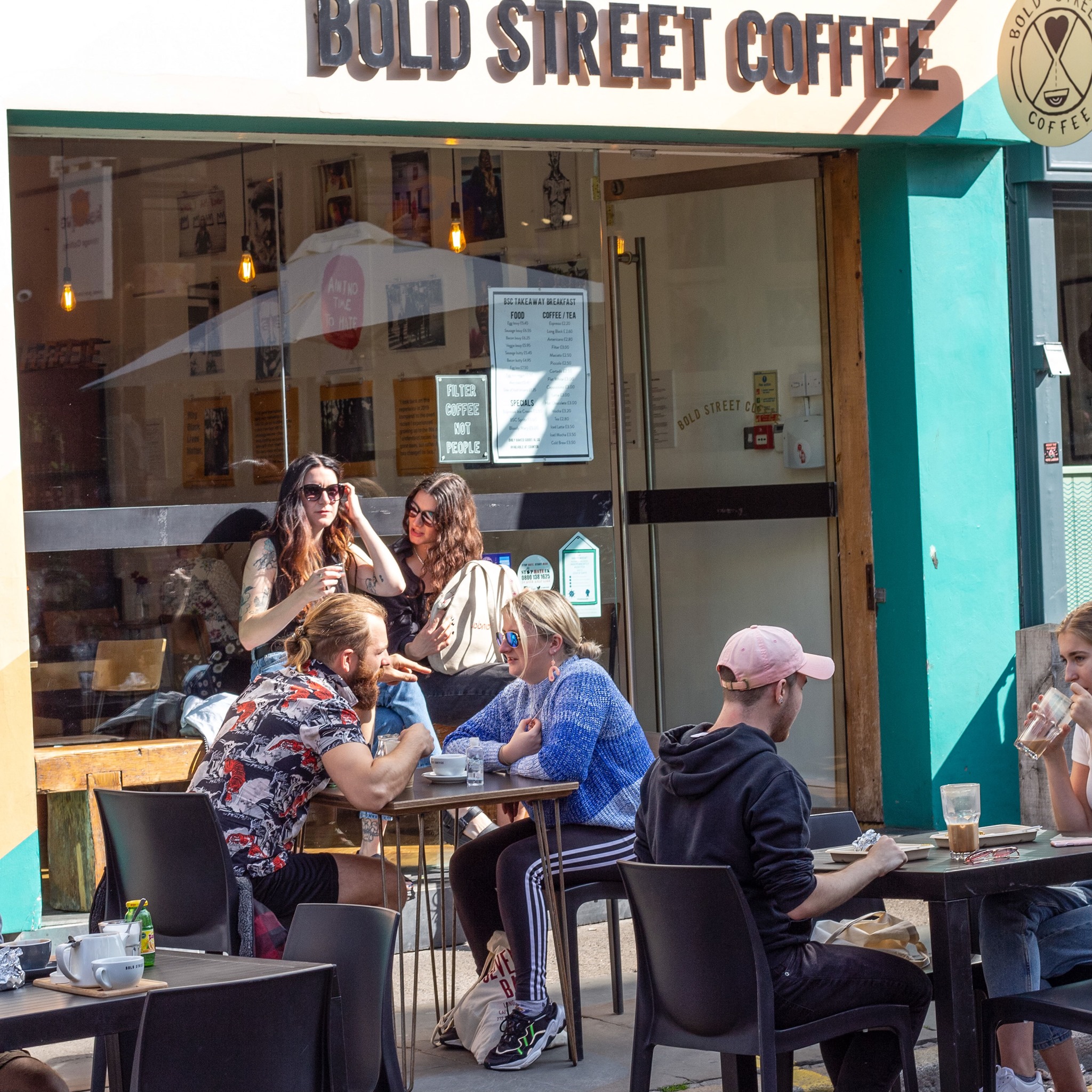 CAFE TABAC
Just up the road, Cafe Tabac has been a staple venue on Bold Street for so many years now and amazingly, they have a cracking little outdoor area. For so many reasons you should check these guys out, belter breakfast, great coffee, bevs, cocktails, lovely staff and so much more. We enjoyed a breakfast under the backdrop of our famous Bombed Out Church on Saturday and we recommend you do the same.
https://www.instagram.com/cafetabacliverpool/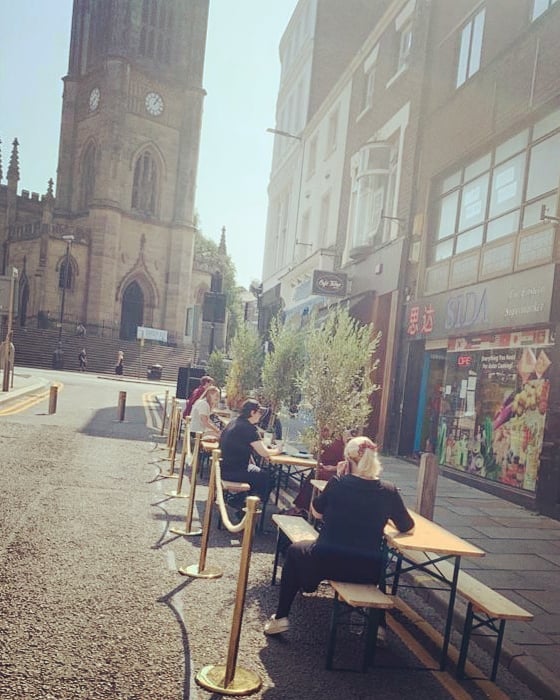 FREE STATE KITCHEN
Home to one of the cities most famous beer gardens. A hidden gem, that once you find it, you'll never leave. Free State Kitchen is described as a low-key diner with garden benches, serving US-style wings, burgers and fries, cocktails and beer. AND THEY ARE DELICIOUS! Situated round the corner from ourselves at 1 Maryland St, they should be on your list this week. 
https://www.instagram.com/fskliverpool/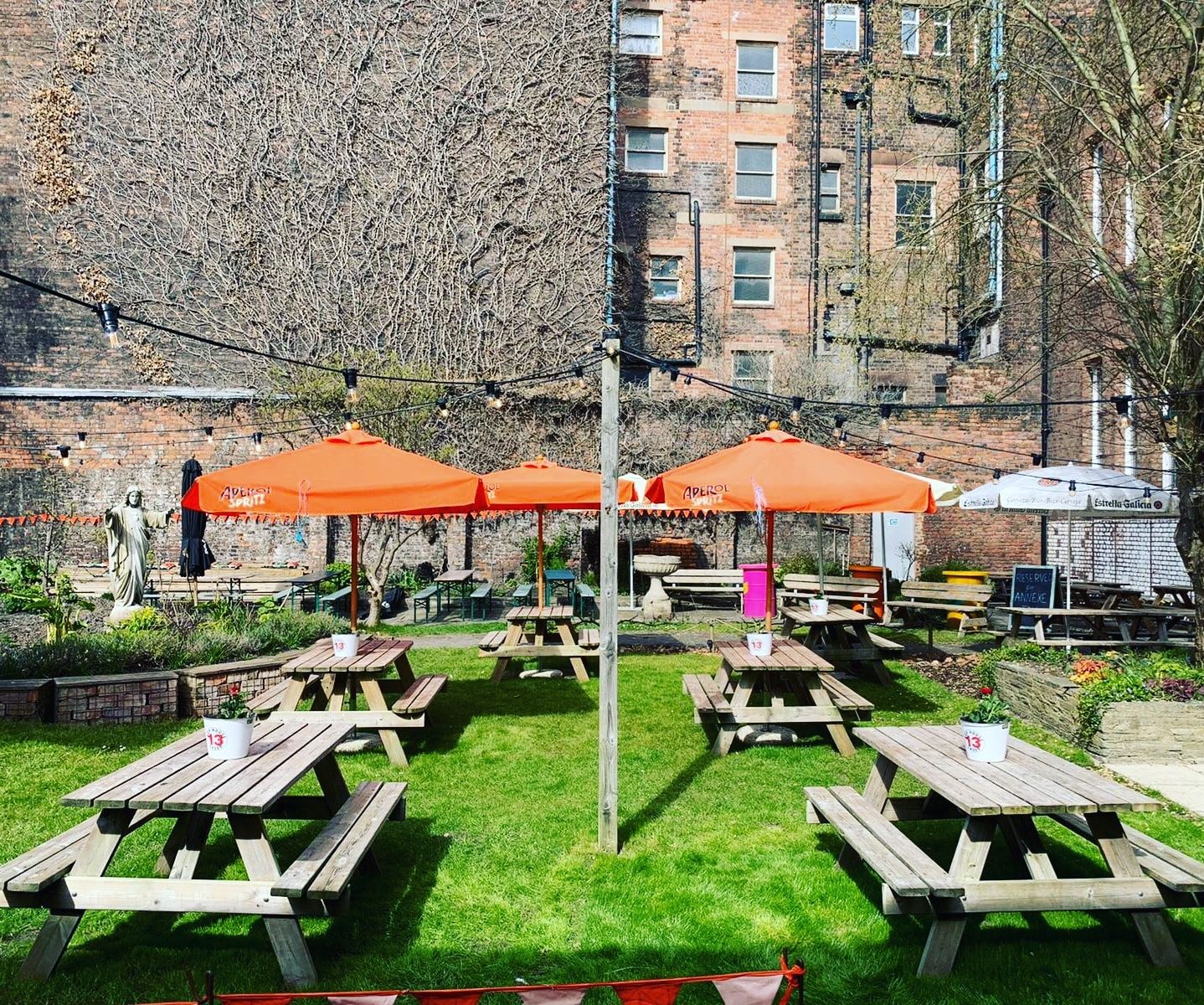 The Merchant
What a cracking little spot with such a buzzing atmosphere! Since it opened, The Merchant has been one of the cities most vibrant, unique spaces and these guys have now carried that outside. In what they are calling the 'Riviera', you can join your friends at a table of 6 and enjoy pizza, gin, cocktails and beers. Situated on 40 Slater street. Stick it in your google maps.
https://www.instagram.com/themerchantliverpool/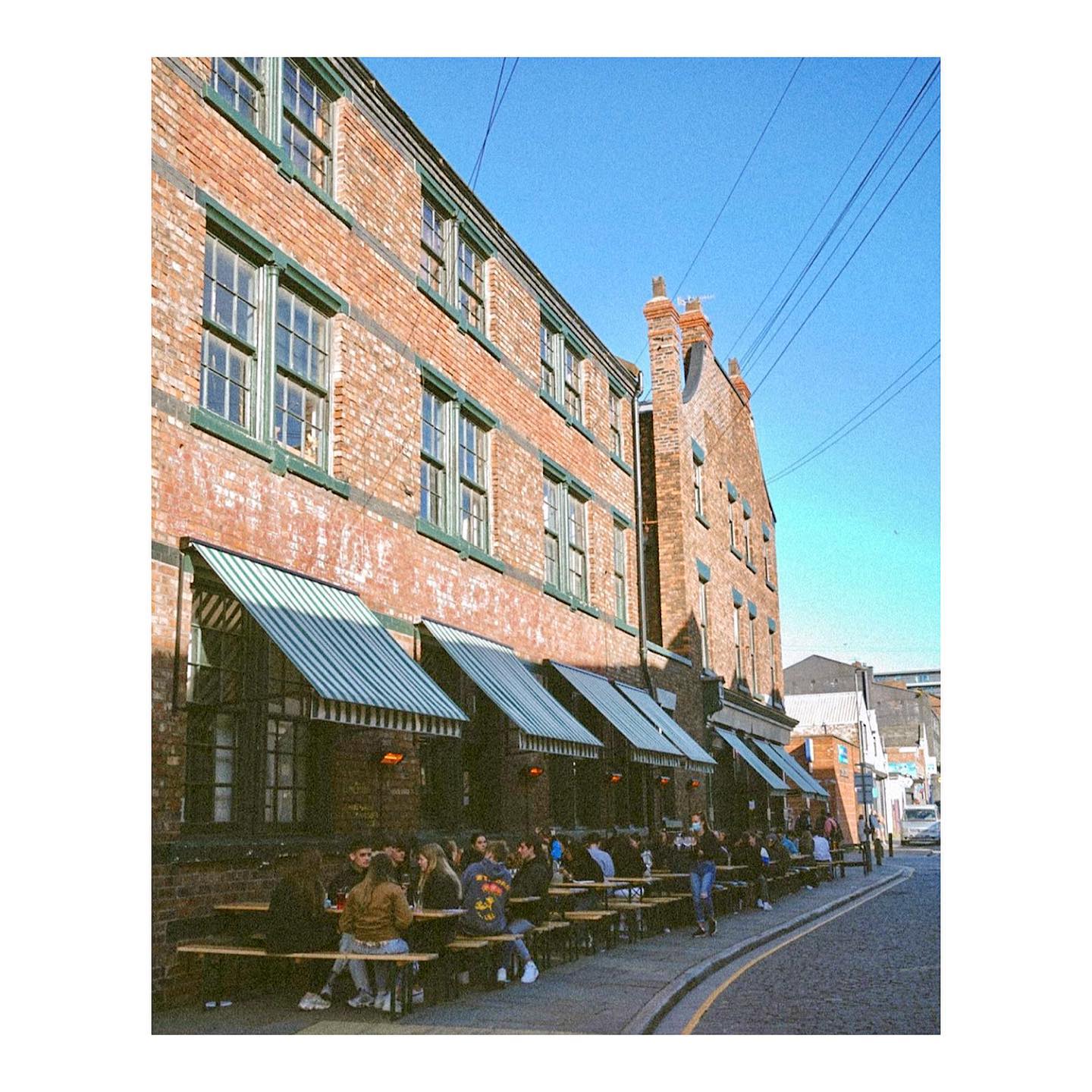 These guys were just a few places we visited last week and we will be seeing so many more friends this week. We truly take our hats off to all the businesses that have adapted to the strange situation and helped our community enjoy their first steps back to normal life. Remember, this is totally new for so many people working in this industry, so please be nice, be patient and treat people the way you would like to be treated. Support local businesses, book a table, eat and drink, share your experience with others and help grow our great local hospitality scene once again. 
Love ya,
LAB