DENIO, the band you need to add to your summer playlists…
Picture the scene, 2018, SOUND basement. The sweat was dripping from the walls as we hugged, danced, laughed and sang along to brilliant bands playing new tunes. One band in particular, with their catchy guitar riffs and unique sound had the audience in the palm of their hand. Who are these guys? What are they called… Obviously, DENIO.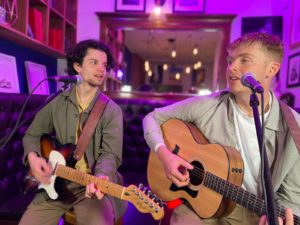 We haven't bumped shoulder for a long time but recently linked up through the 'Arts Bar Song Contest' in November last year. DENIO were one of our amazing finalists after giving us a glimpse in to their lockdown home studio. Denio are still creating catchy riffs and melodies that get stuck in your head for months! On record they've some what changed their style in the last few years bringing synthesisers to the fore and injecting a few Tame Impala-inspired ideas into their music, but they're back with guitars in hand a stripped back for our Library Sessions! We caught up with the lads and here is what they had to say;
Who are your musical influences? 
"Our musical influences are ever changing but some of the artists that seem to remain are the likes of Tame Impala, Easy Life and MGMT."
How have you managed to keep creating during the lockdown periods?
"We have created a mini home studio in Dan's bedroom and this allows us to create demos. It has proven to be an incredible songwriting tool and with the lack of real world distractions we have essentially been focusing on songwriting for the last year. We are constantly trying to update our gear and therefore the demos keep sounding better!"
Are there any other Liverpool based artists that you would like to shine a light on?
"Pixey has done so well this year and we're excited to watch her first gig back. We played our last gig together with her and she was signed shortly after and has been so busy this year, can't wait to see where it goes!
Sister Sister also played with us in that last show and they're both great musicians and really nice lads, listen to their stuff it slaps."
Where are you looking forward to gigging when the lockdown ends?
"We're currently trying to plan our first gig back but it's so hard to choose a venue and date as everyone is scrambling to do the same. Unfortunately some of the venues we were eyeing up for our next gig have closed during the pandemic, but we're just excited to play these new tunes live. As long as it has a heavy sound system we are happy."
We certainly can't wait to get them on the stage, whilst we all hug, dance, laugh and sing along with drinks in our hands. It won't be long now. Hang in there gang! It was a pleasure to record the guys in such a stripped back setting and we can't wait to see what they have lined up in the future. Tune in to the video to catch their full session…